The Mountrail Bethel Home has achieved the highest ranking possible for safety and quality from CMS. If you see a loved one needing more care than you can provide, please contact our 5-star rated, 36-bed skilled nursing facility.  Nobody takes care of you like your own.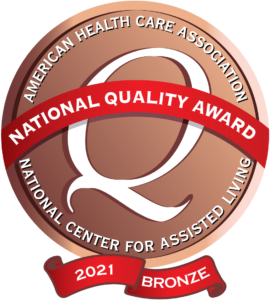 Facility Features:
Semi-Private Room with shared bath
Private Room with a shared bath
Private Room with a private bath
High staff to resident ratio
I.V. care
Specialized diets
Activities designed to meet individual resident's needs
Mountrail Bethel Home is dedicated to providing quality care to its residents. It prides itself in 24-hour care with a high staff to resident ratio. Further safety measures, such as the use of Secure Care, provide essential protection to each resident in the Mountrail Bethel Home.
The Bethel Chapel is a project 25 years in the making, and as of October 2019, it is open to all residents. The goal of the MBH Board was to create a unique space inside the Bethel Home for residents to participate in spiritual activities or prayer time alone when needed.  Many of our residents have attended church their entire lives, and it was important to the Board to create a space for residents to be able to continue to do so, even after being admitted to the nursing home.  This idea launched a project that evolved over the years, and eventually became the beautiful chapel we have today.  Our Chapel features a 12-foot-tall custom stained glass window with artwork created by local community members, and an antique altar donated from Our Savior's Lutheran Church in Blaisdell.  See the "Weekly Menu and Activity Calendar" at the bottom of this page for scheduled service times.
Medical Needs Access
The Mountrail Bethel Home is attached to the Mountrail County Medical Center and the Ina May Rude Aquatic Center/Ann Nicole Nelson Wellness Center, which features the following wonderful amenities:
State-of-the-Art Warm Water Therapeutic Indoor Pool
11-Bed Acute Care Hospital
24-Hour Emergency Room Services
14-Exam Room Healthcare Clinic
Full Range of X-Ray and Lab Services
CT Scanner
2-D and 3-D Mammogram
Physical Therapy Services
Services Provided
The Bethel Home offers one of the largest comprehensive activity programs in the state focusing on person-centered activities designed to meet the needs of each individual.
One-on-One Activity Programs
Therapeutic Activities
Sensory Stimulation Activities
Musical Activities
Men's & Women's Clubs
Spiritual Activities
Social Activities
Transportation to Off-Site Medical Appointments When Necessary
Chapel Services
Dietary Needs
Dietary Manager
Therapeutic Diets
Supplemental Nutrition
Modified Textured Diets
Personal Care
Hairdresser services available weekly
Whirlpool baths
Multi-level need-based dressing assistance