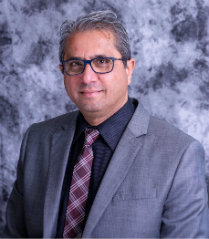 ABOUT Dr. Ravindra Joshi, MD
Visiting Orthopedics Specialist - McKenzie County Healthcare System
Call for Appointment:  McKenzie County Specialty Clinics at 701-444-8730 – No referral required.
Clinic Hours:  2nd, 3rd, and 4th Thursday of each month from 9:30am to 3:30pm.
Through his certifications and achievements, Dr. Ravindra Joshi is certified in orthopedic surgery by American, Canadian, British and Indian examining bodies. He received his Master of Surgery at Bombay University, India, and completed orthopedic residency at St. Thomas and Guy's Hospital Orthopedic Program, London. He received advanced medical education through fellowship training in total joint replacement surgery at Columbia Presbyterian Medical Center and New York Orthopedic Hospital. Additionally he is a Clinical Assistant Professor at the University of North Dakota.